Age: 8
Adoption Fees: $500

March 23, 2023 – Daisy continues to receive treatments for her various health issues. She's starting to get annoyed with us applying eye and ear drops multiple times a day, but we're trying to make it as pleasant an experience as possible with lots of positive reinforcement. The regular vet has confirmed that Daisy will need very regular eye drops for the rest of her life, so it's a priority for her drops to not become something she dreads and fights, so we're trying our best. She has finished her current course of antibiotics and is still taking steroids for her allergies. She is receiving regular baths with medicated shampoo.
Daisy met with the ophtalmologist this morning who confirmed that she has Pigmentary Keratitis in her eyes. Pigmentary keratitis refers to brownish-black discoloration of the eye's surface caused by the deposition of pigmented melanin granules. Pigmentary keratitis is caused by chronic irritation or inflammation of the eye. When this chronic inflammation occurs, melanin granules can be deposited within the deep layers of the cornea.
The ophtalmologist confirmed that Daisy likely only see shadows. The doctor is unsure if she will regain any sight, even with diligent application of drops.
Daisy is sweet and affectionate. She likes to be scratched.  She doesn't have much interest in the resident pug. She walks very well on a leash. She seems fine with children and is not too barky. She is very sensitive to having the area around her spine touched.  This is where the doctor believes she may have had broken bones that were untreated.
March 20, 2023 – Daisy seems to already feel much better with the medication she started, she is going to the ophtalmologist this week to have her eyes checked.  She continues to be a doll when it comes to giving her medication.
March 15 2023 (later): Daisy went to the vet this afternoon. is being treated for severe eye, ear, and skin infections, and allergies. She has started a different eye and ear drops, steroids and broad spectrum antibiotics. Her eyesight is very poor and we don't presently know if that will improve with treatment, but she seems to be able to hear. She is eating well and tolerating her treatments with a lovely temperament. The vet has advised that she remain separate from other dogs during the initial stages of her treatment until we know the extent of her infections. Daisy will require a spay surgery, once she is healthier, and undergo further health investigations, as needed.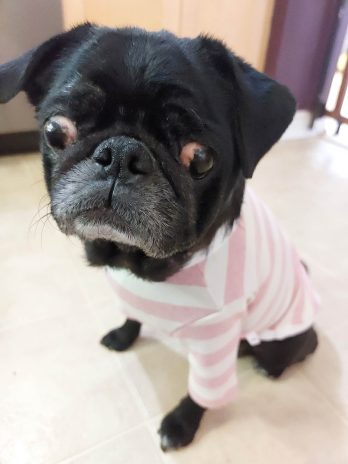 March 15, 2023 – Daisy came in last night.  She will be 8 years old next month, she is born April 13, 2015.  She has dry eyes and sky problems.  She is going to the vet this afternoon for a complete check up.  Stay tuned for more on Daisy.