Age: 10
Adoption Fees: $400
Adoption Status: Not Ready for Adoption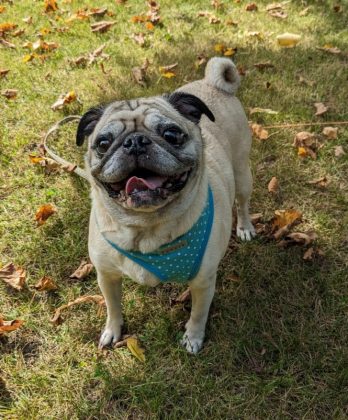 September 27, 2023 – Dallas is a sweet and spunky lady. She is so happy and joyful despite a few medical issues that will be sorted out with the vet. She settled in here quite quickly!  She seems food motivated, and has been eating and drinking well since her arrival. She looks like she will need to lose a bit of weight. Housetraining seems good and she is always excited to see the leash.  Dallas has started playing with toys and with our dog. She does exhibit some respiratory difficulties when more excited. She will do a lot of reverse sneezing and gets a bit congested at times. She is quite spry for her age though!  She demonstrates some mild separation anxiety. She likes to follow me everywhere around the house and will whine/bark for a short time when we leave the house or if separated from us in another room. Typical velcro pug that just wants love. Dallas enjoys hanging on the couch together in the evenings.  In terms of health issues, she came in with eye and ear infections which are being treated. She has an ocular dermoid that will be assessed and will need dental. Her nails have been trimmed, but the quicks are fairly long.
September 25, 2023 – Dallas came in a few days ago. She was sent to us from the Ottawa Humane Society.  Dallas is spayed and she is 10 years old.  She will be going to the vet tomorrow for a complete check up.