Age: DOB October 10, 2021
Adoption Fees: $750
Adoption Status: Successful Adoption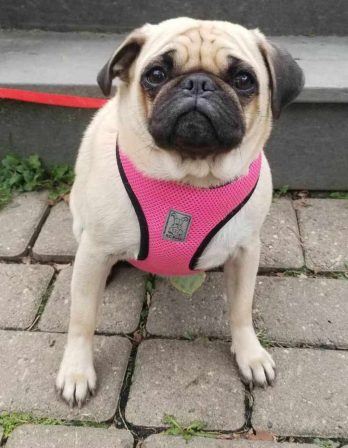 November 29, 2023 – Skye and Goose got adopted by their foster mom and dad.  Long happy life to these 2.
November 21, 2023 – Skye is such a gentle, careful, yet curious young soul. She enjoys all the pleasures of a good cuddle and lap time. She still shows her patience with Goose during play time and sharing of toys and chews. In the last week, we have left the pair to enjoy another part of the house while we are out. No damage,  minimal accidents.
 Skye is so fast when she gets running around the yard. The squirrels have been a great source of exercise. (not fast enough for squirrels). Skye still spends bedtime in her crate and never has accidents. She met our daughter's 8yr old Boston Terrier who spent the weekend with us. Everyone was quite compatible. No issues. She is a fun and sweet little lady to have with us
November 7, 2023 – Skye is a charming, lovable sweetheart of a girl who loves to be with her people. She has come to enjoy this new way of life, and loves snuggling on the couch.  She's a very good eater, which is clear we have to watch her portions. She loves to run and play with her foster pal Goose and is very caring and tolerant of all the puppy antics she puts up with. She is very calm around sudden noises inside and outside the house. She was curious with our Halloween kids and eventually didn't even bother with the continuous doorbell sounds. This girlie is a real gem. Loves getting hugs and kisses and gives plenty in return.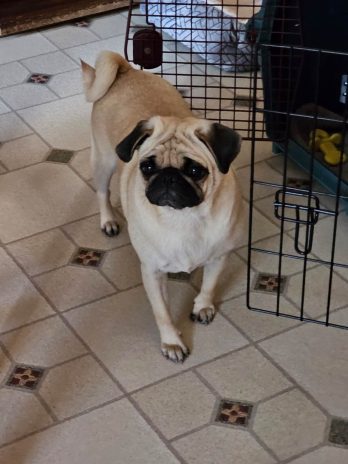 October 25, 2023 – Skye is such a kind mother type pug. She is so tolerable of the little 5 month old Goose who is always after her to play. Skye is still a little shy to be picked up and cuddled, but once you do she is just in awe of this new experience. Skye is very loving and happy to be a part of the family. We continue to have company come see them and they warm up much sooner to strangers than in the beginning. It is only a matter of time that they won't be shy with others. Skye has had a couple of accidents this week. I'm not sure if it is weather related (rain and cold), or a marking situation now we have allowed a bigger living space for her. This girl has a big appetite, so controlled portions are a must for her. Skye sleeps all night in her crate without a peep  and no accidents. She is quite ready to relieve herself in the morning. She loves to give kisses and enjoys a good scratch and rub. This girl is so loving and kind.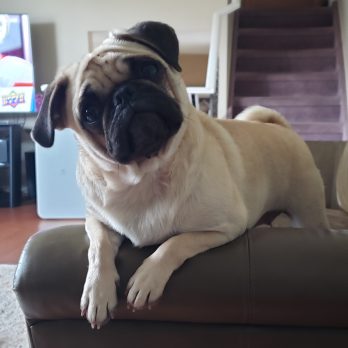 October 18, 2023
– Skye is a sweet young lady who is gaining confidence every day and realizing it's fun to do pug stuff. We bathed her and she was quite comfortable with it all. She is crate trained and has not had any accidents during her stay. Always does her business when we take her out. She is good to come by name and seems eager to please. She can play hard and is very tolerable of her little sidekick Goose. We had a great outing to the vet and she seemed calm and comfortable with all the attention. We have had friends visit to see her and she is always very timid at first. Her full personality will surely shine with others soon. We have seen huge changes in trust already.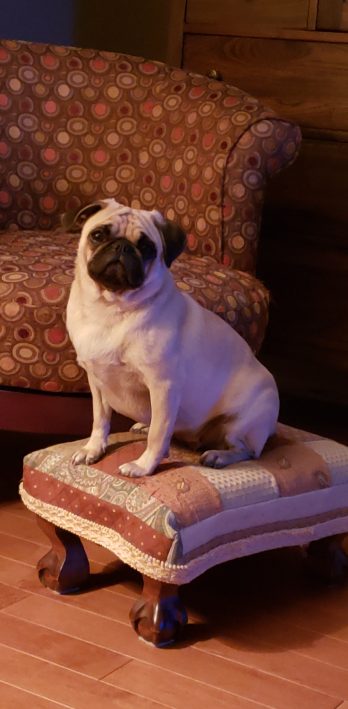 October 11, 2023 – She had a first good night. She is being fostered with Goose, another pug who was surrendered to us. They slept in separate crates but during the day, they were quite happy to be together. Skye did both her business out and was quite content in her crate all night. So far no accidents in the house.  I already see more confidence.
Yesterday, poor Skye was very timid and shy and that little tail was down all day.
Today, she is bright, comes up to us outside and gives kisses and her little curly tail has been up and curled where it should be. She ate well and drank.  She was very entertained by the himalayan chew and squeekie toys.  Our cat is quite accepting Skye quite well.
Skye is NOT yet available for adoption, Adoption Application submitted at this moment will be discarded.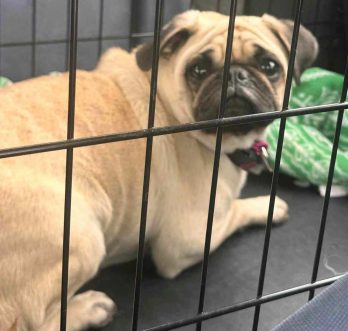 October 10, 2023 – Skye was surrendered to us yesterday due to no fault of her own.  She is born October 10, 2021 and she is spayed.