Age: DOB May 21, 2023
Adoption Fees: $750
Adoption Status: Successful Adoption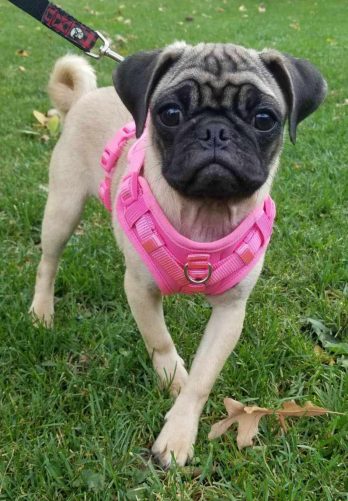 November 29, 2023 – Goose & Skye have been adopted by their foster mom.  Happy long life to these 2.
November 21, 2023 – Goose continues to make us laugh with all her funny antics and facial expressions. We have slowly allowed her and her foster pal Skye a little more freedom in the home. When we leave they are now allowed in the kitchen and living room. We tried an hour at a time and can  leave for 4-6 hours without too many surprises. They seem quite comfortable. Our daughter was home with her 8yr old Boston Terrier for the weekend  and everyone got along super well. Goose is still very careful with our cat and everyone knows their place.  Outdoor exercise is exciting to watch in the fenced backyard. Lots of squirrels to chase and they often get the zoomies to tucker themselves out. The night time routine is quite predictable. They seem to need to go out at 5ish am but they easily come back into their crate for another 1 1/2 hours. Clocks going back did not help. Another week in the books going very well.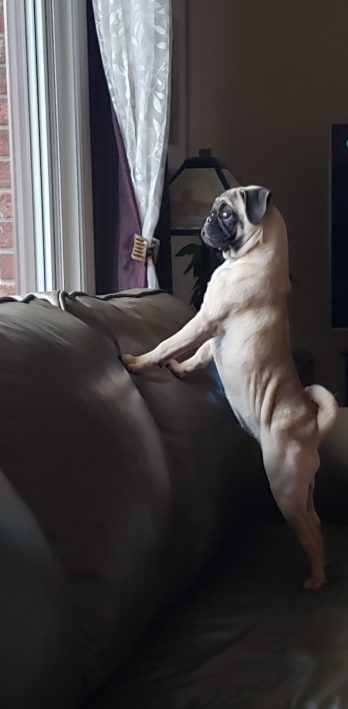 November 7, 2023 – Goose is the sweetest little pug. She is loving, snuggly, curious and at times mischievous (but in a fun way lol). She has easily fit into our homelife. She is very  calm with everyday noises in the house such as vacuum, sudden bangs, outdoor sounds etc. She had a couple of firsts in the last week. One being Halloween kids to the door and another was running in a snowfall one morning. She took it all in stride. She was to the vet today and in good health. She was a brave one getting her booster and rabies and we socialized with all my friends at the clinic.
October 24, 2023 – Little girl Goose is the whole package of cuteness. She is so playful and curious and enjoys being picked up and snuggled. Plenty of kisses get exchanged. This week, we have opened up the area into our living room and she loves being with her people. After  busy playtime, she will crash on your lap.
We have had a minor setback with the "potty" training and have had a couple of accidents. It is likely due to the change of weather and not wanting to go out as eagerly on a rainy or cold day. In general though, she is good to go outside. She is quite happy and playful with foster buddy, Skye. I don't hear a peep from her all night in her crate until 7am. Come meal time, she is super excited to have her belly full. This little gal is just the sweetest!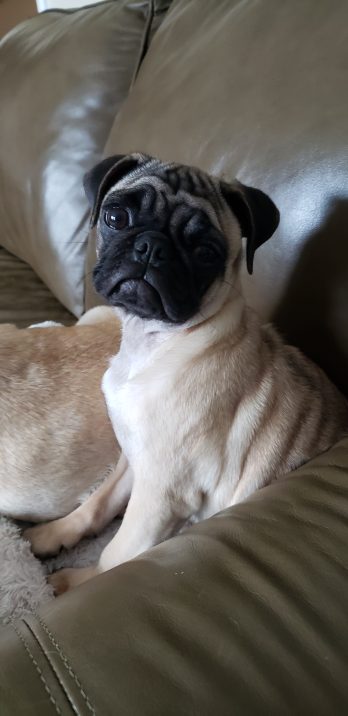 October 18, 2023 – Goose is an adorable, curious and playful girl. Her confidence with us has increased so much already. She now allows us to hold and cuddle with her. I can play with her feet without any issues. She has let me trim her nails. We gave her a bath on day 2 and she was happy about it. She sleeps all night in her crate without a peep until 7am. We have had only 2 accidents. We are able to take her out every few hours and she always does her business.  Goose loves playing with Skye and is quite good with our cat. Her visit to the vet today was great. She is a mighty 10.5lbs
October 11, 2023 – Goose had a good night, she is being fostered with Skye. They slept in separate crates at night but were were quite happy to be together during the day. We left the door of crate open til bedtime.  Goose was let out twice at night and didn't have any accident in the house.  She had her pee at the morning outing.
I already see more confidence with both. Goose is a little spitfire and very food motivated. I was able to trim her nails by myself which is great for a pug! She ate well and drank. Goose is very entertained by the himalayan chew and squeekie toys. The resident cat is quite accepting of the pair.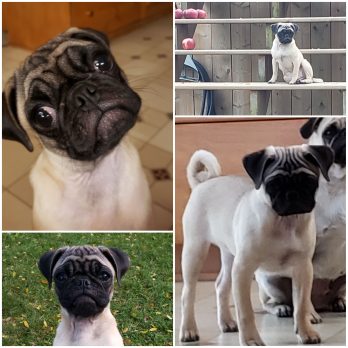 October 10, 2023 – Goose was surrendered due to no fault of her own.  She is born May 21, 2023.  Goose will go to the vet next week for a complete check up and we will schedule her spaying surgery at that moment.  Goose is NOT available for adoption.
Adoption Application submitted at this moment will be discarded.