October 22, 2018 – Ollie is the King of the house. You will frequently find him curled up at your feet and he has claimed his "spot" in each room of the house to keep an eye on our every move. He is very affectionate and nuzzles his head into the palm of your hand for extra loves each time you get home. He has even charmed our building concierge! His accidents are becoming less frequent and he tries his best to only go #2 when he is outside. He is also becoming more tolerant of other dogs, even when they are around his food bowl. We've had two overnight doggy visitors and Ollie has welcomed them into our home with his tail wagging! He loves to play with other dogs—as long as it's on his terms. Ollie fills our home with so much happiness. He is the perfect companion for Vitto, who has grown accustomed to sharing his bed, and has even started to whine when Ollie leaves his side! A big thank-you to UMWPR for choosing us as Ollie's foster parents!
August 23, 2018 – I am still trying to sniff out my forever home, one snuggle at a time. My foster family brings me a lot of tail-wiggling fun but what I really want a forever home to call my own.
I may be a little old and my legs don't move quite like they used to, but I don't let that slow me down! I am looking for someone special to share my senior days with — walks in the sun, mid-day naps, and two square meals a day (meal time makes my tail wag extra fast!).
I promise I won't cause you any trouble: I will be very happy to just lay at your feet and soak up the love of my forever family. Oh, and whoever said you can't teach an old dog new tricks obviously hasn't seen my high fives!
August 10, 2018 – Meet Ollie at Rens Pets Depot on Strandherd Drive in Nepean from 11AM to 3PM.
July 30, 2018 – Ollie is a special needs pug with a bit of a wobbly back end. It doesn't keep him from enjoying life, but it does mean that he sometimes poops before he can get outside. He can't help it. Ollie will need special attention in the form of regularly scheduled meals, no snacks in between, regular outings and a forgiving family who loves him in spite of his little "problem". Ollie has an amazing personality and he is always curious and eager to greet new people.  He can be a bit grumpy with other dogs if they get in his face.

July 16, 2018
– Ollie continues to get comfy in our home! He loves to be wherever we are and lies on our front mat by the door while we're away and jumps up to greet us when we get home. He knows simple commands like sit, lie down, and paw, and is eager to get praise from you. He sleeps through the night and serves as our morning alarm clock with a little knock on the bedroom door. He loves to cuddle with Vitto during the day but knows when Vitto wants his space. He's had no pee accidents inside.
July 5, 2018 – Ollie is settling in again. Less peeing inside (zero accidents inside today!). We even caught Ollie and Vitto cuddling a couple of times today, but they quickly separated when they realized we were home. Ollie wants to be around us wherever we are and will lay at your feet (or on your feet!) to stay close. He has stopped whining while we are away, and will only let out a little whimper if he wants to be cuddled, and of course we oblige. He's happy to sleep in the living room though he does follow us to the bedroom at night. A quick "goodnight Ollie" lets him know it's bed time and he comes back out to his bed and curls up for the night.
June 28, 2018 – I'm getting used to being (mostly) toothless and have been enjoying my wet food!  It took my tummy a bit of time to adjust, but I am back on track now.  I love being a part of things and with my people.  I get a little anxious if I am restained to an area of the house or crated, but will relax and sleep on my bed if I have free rein.  I can't do the stairs, but I happily accept rides up and down.  I can handle one or two steps, and can still enjoy short walks.  I am currently bunking with three other dogs and we get along great!  Peggy pug is fun to play with from time to time.  Come and meet me this Saturday, July 30, at Pet Valu on Hazeldean Road in Kanata from 11AM to 3PM.
June 19, 2018 – Ollie had his teeth cleaned today and they all needed to be extracted except for 1 molar !  Ollie did very well under anesthesia and will be ready to go back to his foster home at the end of the day.
June 16, 2018 – Ollie is doing well, taking four very short walks a day. He'll take a seat to let us know when it's time to pick him up to go back inside. So far there have been no accidents inside! He loves laying on the cool ceramic tiles during hot days and lays next to the front door to greet us when we get home. Ollie likes to be wherever we are and will get upset if we are out of sight for too long. He gets a little jealous of the resident pug, and sometimes we catch Ollie growling at him. He's very sweet and just wants all of your love and attention.  Ollie went to the vet and will need to have his teeth cleaned – that will happen on June 25 .  The vet took xrays and said he has a 2 vertebrae fused so his walking is a bit wobbly but he can still go for short walks.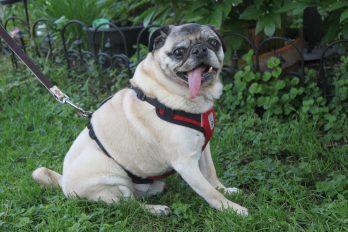 June 10, 2018 – Ollie came in yesterday, he was surrendered by his owner.  Ollie is a sweet 13 year old boy.  He is a tad overweight and has arthritis.  Ollie is going to the vet tomorrow for a complete check up.  Stay tuned for more on this beautiful boy.  Ollie get along well with other dogs.