Age: DOB April 21, 2023
Adoption Fees: $750
Adoption Status: Successful Adoption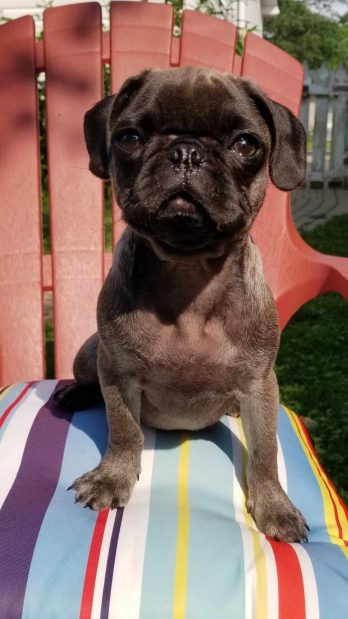 July 31, 2023 – Willow's foster dad has adopted Willow.  He has been fostering for us for 11 years and Willows has formed a bond with his young pug Frank.  They are inseparable.
July 25, 2023 – Willow officially turned 3 months old last Wednesday. She is settling into our routine nicely, and we are
adapting to having a little energizer pug-bunny back in our home. Willow is making steady progress with her house training. The only hindrance at this point is she cannot get herself down the steps and we end up with a pee or poop on the deck. We take it all in good stride and it will only be a matter of time before she is able to go down the steps like she flies up them. Willow has been on a couple of walks, she
does well, but has not figured out that she can do her business while on the end of a leash. Crating while leaving the house is a non-issue (couple of whimpers and then falls to sleep), but at night she much
prefers the big bed and likes to sleep with her human, and pug brother and sisters. Willow is going for a medical check up this coming Thursday to ensure she is developing as she should be. Willow is an extremely sweet girl and one of her favorite games is to play fetch with a ball.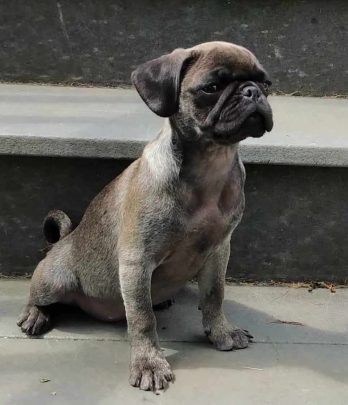 July 17, 2023 – Willow came in early yesterday afternoon and settled in quickly. She has no issues being around the resident pugs and even initiated some play. Willow has a great temperament, good appetite and quickly figured her surroundings out; she also loves to frolic outside on the grass. We will continue to work on her potty and crate training. Willow will go to the vet later next week for a complete check up. In true puppy fashion, there are lots of bursts of energy followed by naps. Oh, and she is a bit of snuggle bug!