Age: 8
Adoption Fees: $300
Adoption Status: Successful Adoption
July 29, 2015 – Pudding is gone to her forever home tonite…(: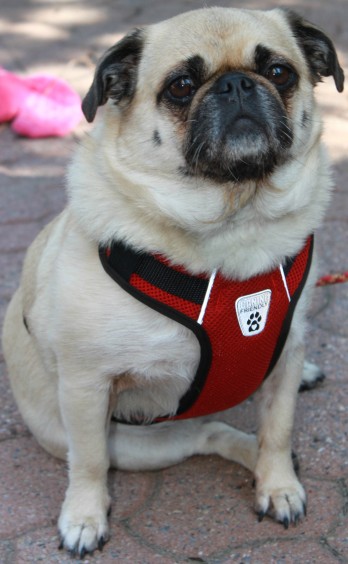 July 20, 2015 – Pudding has her teeth cleaned today and lost 6.  The rest were polished.  Pudding is going back to her foster home tonite and she is now ready to be adopted.  Pudding was at the Adoption Day this past weekend and met quite a few people very interested in her.  Pudding is definitely more attached to people than dogs.  She gets along well with them but doesn't interact with them.  She would be the best cuddle dog for anyone who is looking for unconditional love from that pretty girl.
July 15, 2015 – Pudding has now been in her foster home for almost two weeks and she is doing so well. She loves going for her walks twice a day and is great on the leash. She's very happy to stop and greet any two or four legged friends we meet. Pudding doesn't really play with toys that much but will occasionally get a burst of energy and play fetch for a bit or chew on her stuffed animal. Pudding sleeps well in her crate a night. Pudding is going the vet this Wednesday for a full check up and will also be having her teeth cleaned on Monday.
July 13, 2015 – Pudding is doing very well.  She is being fostered with Kenny & Kennia and she is good with them.  Pudding seems to be more interested in people and she follows her foster mom everywhere in the house.  Pudding is going to the vet this Wednesday for a complete check up, to be brought up to date in her vaccination and to be microchipped.  An appointment has been taken to get her teeth cleaned next week as her teeth are pretty green……Pudding will soon be available for adoption.  She would probably do very well with or without another dog in her forever home.
July 6, 2015 – Pudding is just the sweetest girl. She loves going for her walks and goes at a good pace for her age. Pudding is super friendly to any people, dogs or cats she meets. She does seem a bit timid with men but warms up very quickly.  Pudding cries a bit when first put in a crate but settles down within minutes. She doesn't seem overly interested in toys but when she's in the mood, she loves to play fetch. Pudding arrived yesterday so we are just getting to know this beautiful girl and her personality. Pudding will be visiting the vet in the coming week for a complete check up and will probably need to have her teeth cleaned. Stay tuned for more info on that exquisite girl.
July 5, 2015 – Pudding is an owner surrender.  She's 8 years old and she's spayed.  Pudding is used to live with other dogs and cats.