Adoption Status: Successful Adoption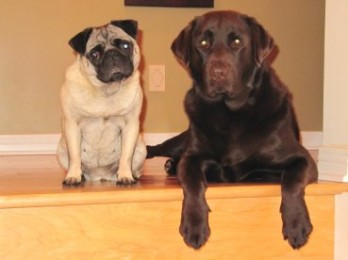 October 8, 2009 – Well, I was actually not so sure about getting a pug for our family. My daughter Piper wanted a Pug for a while, but we have a dog, so one is enough, right? Well, leave a 7 year old with her Dad for a "sick day" and see what happens. What happens is a registration for Pug Rescue. We got Peaches in the fall, and she has fit beautifully into our home. She is a loving family dog. Now Sophie and Peaches get along beautifully.
Peaches is a funny dog, a clown, loves walks, people, other dogs, eating (like you can't imagine) running, jumping on your head in the morning, and sitting right on top of you and the laptop when you write.
Peaches has been a wonderful addition to our family, she has fit right in and gets along with everyone including our cat. We include her in everything, going to cottage, getting the Christmas tree and today my daughter had a dog birthday party for our Lab Sophie at the dog park, Peaches was running around and playing with the other dogs and just really enjoys being out and about.
I am glad that my daughter Piper had a "sick day home with Dad". Peaches is the result and I wouldn't change our new family addition for the world.
Tim & Lynn