Age: 11 years old
Adoption Fees: $300
Adoption Status: Successful Adoption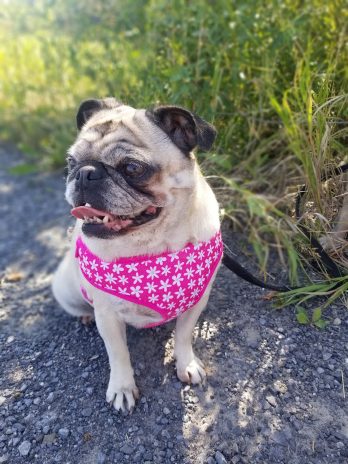 December 3, 2022 – Paisley & Rocky are gone to their forever home…(:
November 15, 2022 – Rocky and Paisley are doing very well.  Another weekend spent at the cottage enjoying the great outdoors and snooze in front of the woodstove when we come inside. Rocky is now coming into my office with his toy in his mouth when he wants a little playtime during the day.  Paisley is content to just watch him chase the toys.  Rocky loves the cooler weather and really enjoyed the snow this morning but Paisley is not a fan! She finds it a bit cold so we dress her up in a little coat so she is warm and comfy on the walks.  Both are getting microchipped this week.
November 2, 2022 – Both Rocky and Paisley are really enjoying the fall season. They are so energetic on their walks and really love running through the leaves and sniffing every pile of leaves they walk by. Paisley has recovered very well from her spay surgery and is back to her energetic self. Incision is totally healed.
Rocky is down to 29 lbs now  He came down with a little gastro bug but the antibiotics have kicked in and his bowel movements have returned to normal.  These 2 cuties are ready to be adopted.
September 26, 2022 – Paisley is doing very well.  Her foster mom found in a closet a winter coat for her and it fits perfectly! Also happy to report her salivary gland is back to normal . all swelling gone.  Still working on their manners during  city walks but we are definitely seeing signs of improvement.  All in all happy puppers!
September 8, 2022 – Paisley is recovering well from her dental procedure. She had 4 adult teeth and three baby teeth (which had never fallen out) removed. She is enjoying the special treat of chicken stew which will not cause any issues with the sutures in her mouth. Also happy to report she's down to 10.3 kg and continues to enjoy her longer walks.
August 22, 2022 – Back at the cottage for another week of vacation. Foster Mom decided it might be best for her to keep them company in the back seat for the long drive to the cottage and they were super travellers! Even napped for a while.
Although they have adapted well to condo life it's obvious Rocky and Paisley prefer the quiet lifestyle at the cottage.
Fresh air, naps outside, and plenty of exercise chasing the resident chipmunk around the deck
Rocky's mobility continues to improve…he can now go up a short flight of stairs and will break out in the occasional run if he spots the chipmunk at the bird feeder. Walking distance improving.
Paisley is quite energetic and always excited when it's time for a walk. Foster mom has taken her out a couple of times by herself and she can easily walk for 2 km.
Seeing more of their personalities now and they have started playing with toys . They need supervision at meal time as Rocky will try to nudge his way into Paisleys bowl if she hasn't finished. Now know why he's a little chunky!
Both continue to sleep well through the night and enjoy snuggling up on the sofa with foster mom &dad to watch a movie.
Dental surgeries are booked for September and Paisley is getting spayed on Oct. 4 .
All in all they are settling in really well and we are enjoying their company!
July 30 – Rocky and Paisley truly enjoyed their week at the cottage. Highlights included lounging on the deck, nature walks, and the endless entertainment provided by the local chipmunks raiding the bird feeder.  They met some new friends including a furry one…a few barks to introduce themselves but quickly settled down and all enjoyed each others company.
Rocky and Paisley are very social and love a good snuggle. Paisley will jump up on the sofa if invited. Rocky will ask for a lift up as he can't jump but manages quite well to get down on his own. He needs a lift going up a flight of stairs which should change with weight reduction.  We are starting to see some personality from both. Paisley in true pug fashion likes to follow around her humans while Rocky is a little more autonomous and will nap on his own in a different room.  Paisley likes to mother Rocky. She will lick his ears and on the rare occasion will hump him to show him she's the boss. Rocky has no problem with it and will muscle her out of the way to be first out the door for a walk.  Both are settling in to a feeding schedule of twice a day. Rocky has already dropped a couple of pounds and has more energy to keep up with Paisley on our walks. We continue to work on social skills during the walks. Both are sleeping well through the night and no accidents.
June 18, 2022 – Rocky and Paisley are settling in very well to condo life.  Both enjoy their rides on the elevator to go outside for a walk. Paisley has great energy for walking and even though Rocky is carrying quite a bit of extra weight he is surprisingly light on his feet and even ran a bit to catch up to his sister. Both had no issues doing their business on the walks and we also noticed each one asking for the door to go out.
These two sweetie pies are very affectionate and really enjoy spending time with foster mom and foster dad getting belly rubs. Paisley in particular has attached herself to foster mom and follows her everywhere.
They respond to the sit command, respond when called by their names, and perk up their ears when you talk to them.  Both enjoyed a good bath and brushing and ate their dinner.
Paisley slept through the night on the dog bed without issue. Rocky also had a good night for the most part except a one time wander where he had a little pee in the kitchen.  Rocky and Paisley would like to give special thanks to Ellen from www.uptownpetgrooming.com who opened her shop during her vacation for a much needed emergency nail trim today at no charge! Walks will be way more fun now
July 16, 2022 – Paisley came into rescue on July 16. She has been together with her brother Rocky all of her life and is 10.5 years old. We will get them both vetted the first week of August. Paisley will need to be spayed. They will have blood work and vaccines.  More to come as we get to know this sweet girl.