Age: 20 months
Adoption Fees: $600
Adoption Status: Successful Adoption
January 24, 2020 – Memphis is gone to his forever home.  He will share his life with a 3 year old female Pug X.
January 14, 2020 – Memphis continues to do well with his house training and accidents are far and few between … I pay a lot of attention to his training and we go outside a lot so he realizes this is the place to go potty . He needs lots of positive reinforcement to continue his progress .
Yesterday, my daughter and 7 month old grandson came to visit ..That proved to show me a different side of Memphis. He was curious but barked at the baby. He appeared to be a bit nervous about him.
Memphis is still having lots of fun racing around the yard with the resident pugs. He loves to play, but still loves his cuddle time and is my constant shadow .
Wherever I am , he is under my feet. Gets very upset if I have to go out, and overly excited when I come home. He still has some separation anxiety but he is doing better than at the beginning.
We are still working on his sitting quietly and taking his treats in a gentlemanly manner.  Memphis is doing very well , but gets pretty excited when it's breakfast or dinner.
This sweet boy is becoming more confident, had lots of play with a visiting puppy; they each liked to bite at each other's back legs to get the game started.
He did chase the cat this week, she was running so he thought that was the thing to do.
Memphis is a sweet loving boy, a wonderful addition to a family that has another young dog.
January 10, 2020 – Memphis is ready to be adopted.  His forever home will have a young playful dog.  Memphis thrives in the company of other dogs and needs to continue to be socialized.  He has come along very well since he came to us almost 2 months ago.
January 6, 2020 – Our little Memphis is presently having a wonderful sleep after his fun day at the Running of the Pugs yesterday ! What a thrill to see him having so much fun, prancing around, being a confident boy, meeting people, playing with the other pugs ! He has really blossomed from being a very timid, scared boy.  Memphis is still a little wary and shy in the beginning but has come a long way in a short time; he will need more socializing as he continues to thrive.
He loves to play with the resident pugs, will run after his toys but hasn't learned to bring them back …yet ! He also likes to steal the toys from the resident pugs.
He loves to race around the yard with the resident pugs trying to catch him, but he is very fast and usually leads the pack !
Memphis is still learning to master the art of not pulling when he is walking on his leash. He is a smart boy and just needs a "firm hand " to teach him his leash etiquette…We are seeing less accidents in the house, in 9 days we have had 2 accidents only… His training needs to continue and patience and positive reinforcement are helping him become more confident in this area. Memphis doesn't alert me to the fact he has to go out, but he is going each time we go outside, and longer times in between. I tried him a couple times in the crate but that is not a great option for him and caused him much anxiety.
Memphis is such a loving little guy, he is very playful and energetic but he is also as cuddly as a teddy bear and loves his quiet time cuddled up or on my lap. He also likes to lie on the back of the couch and rest his head on my shoulder.  He likes a lot of attention, and does have a little separation anxiety.
Memphis will do well in a family that has another young dog to play with, being 20 months old, he has lots of energy to play and go for walks. We will be looking for a family with another young playful dog for Memphis's forever home.
January 2, 2020 – Memphis is a special wee man.  He was not treated well prior to his surrender to the rescue.  This has left Memphis feeling insecure and nervous for the most part.  He is slow to warm up to new people, new situations & new surroundings.  Memphis needs slow introductions to all things new but once he has a comfort level, he is his happy playful self.  He is still very much a puppy (at almost two years old) and requires a lot of stimulation in the form of playing with toys, going for walks (lots of walks), playing chase with other dogs in the house or in a fenced back yard.  He would make a great jogging partner under the proper weather conditions.  Memphis would benefit from a young dog companion that is easy going and as playful as he is.  Memphis loves to encourage play by nipping at the back legs of his playmates.  He is learning to play fetch with a ball or toy but hasn't yet mastered the returning the item.  Memphis plays hard and sleeps hard.  After a session of play he loves to curl up for a nap, preferably on your lap and isn't shy about snoring.  Memphis is working on learning commands.  He does like to beg at the table and while you are preparing his food, so he has mastered what "off" means.  He is a quick learner however and needs gentle reminders as he doesn't do well will loud angry voices.  Along with "off", Memphis is learning to sit and very quickly learned how to take a treat gently.  We continue to work on his leash manners, he isn't bad, but wants to be the leader of the pack. Memphis will need someone that is a leader and someone that is experienced and consistent in being the pack leader. Memphis enjoys sleeping on the big bed and has no issues sleeping through the night even if his human gets up to use the facilities.  Memphis's new family should be a place where someone is home for the most part as he does suffer from separation anxiety.  He does best if he is on a regular potty schedule as he will easily forget that it is not acceptable to potty in the house (especially after a play session).  He hasn't mastered the skill of going to the door and asking to be let out.  Memphis enjoys car rides but can be fearful of getting out in an unfamiliar environment. Memphis is still a work in progress, but we believe that is it time for him to be placed on the available for adoption list.  It is important that his forever family understands he is a very sensitive pug and that he will not be comfortable for a longer period than it would normally take for a pug to settle in.  The key to success with Memphis will be consistency, kindness and lots of love.
December 23, 2019
– Memphis is doing really well adjusting to a busy house with other animals. He is not scared and timid in our environment.
He went to the vets this week for to have his anal glands expressed and handled it well.
He is also doing good with his house training and  has had no accidents so far this week. Does his business when we go out in the morning, also around dinner time. Despite the freezing temperatures last week, we are out in the yard many times a day. Memphis loves to race around the yard with the resident pugs trying to catch him.
He play fights with the resident female pug and I've noticed he is not as rough playing as he was when he first came.  He loves his toys.
Memphis has some separation anxiety and gets a little upset when I go downstairs. Earlier this week, he was quite upset, today he was as well but not quite as vocal.  When I go out, he cries a little but it doesn't last long.  Memphis is a loving boy, he likes to cuddle on my shoulders or on my lap. The only problem we have encountered which started about 3 nights ago when we went to bed. He was on my lap and started growling if the resident pugs got too close to me.
Memphis is really sweet, loving, playful and needs a lot of attention … I think being in a home with more than one other animal would not be the best environment for him.
December 16, 2019 – Memphis has been moved to another foster family as we thought it was in his best interest to socialize with other pug and play…He was a little timid at first and checked everything out but quickly settled in. It didn't take much time and he wanted to play with the resident Boston. He is a little rough with his play sometimes but the resident Boston was so tolerant with his antics.
We were outside for awhile and Memphis just loved to run around .., Him and the resident pug do a lot of running and sometimes Merkley will join in.
Memphis also likes to be on my lap or in my arms.
My observations of Memphis in this short period of time is that he is not as scared as we thought. He doesn't back off from anything, runs around as if he owns the place.  Memphis is very loving and cuddly. Also likes to look out the window. He's just a puppy, needs a little more house training, and coaching on how to play more gentle … but adjusting well in a house with other playful dogs.  Memphis will do well in a house with another young dog but no young kids he's a bit rough when he plays.  This sweet boy like a lot of love and attention, and when I went outside the gate to shovel he cried even though he could see me.
December 9, 2019 – Memphis recovering well from his neutering surgery.  He tend to follow his foster parents everywhere they go. We have taken some good walks and the new trick is, given Memphis a treat when he pees outside. He lifts his leg on a pole to get a treat. He loves to sit in the window like a cat and enjoy the sunlight. Memphis  also loves spending time with his foster grandpa. He still not comfortable with little people or anyone who tries to pet my head instead of my chin. Memphis  is very playful and does paw a lot but we are telling him no. He is still recovering from his first home, high anxiety and almost PTSD so we have to be careful of doors, or loud noises around the house.  He is doing well and has made himself at home, we are seeing a lot less accidents.
November 28, 2019 – Memphis's neutering surgery went well. He ate his dinner well last night.
This morning we have our puppy back! He wants to run everywhere so we have to calm him down so he doesn't hurt his sutures. He is back sitting by the window making little noises as passersby walk on the street. The cuddles and the kisses are back too!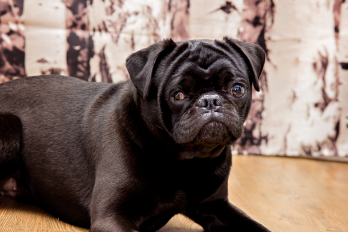 November 24, 2019 – Memphis is getting more comfortable and adjusting to his new environment. He has met and made a new friend with next door dog, he gets over excited to play.  Memphis is starting to listen more and more, from sit to wait while walking. He is very cuddly and sleeps at his foster Mom's side. He knows when you are not well or having a bad day, and is right there to help.
Memphis is getting neutered on November 27.
November 18, 2019 – Memphis went to the vet last Saturday and got a full check up.  He has been vaccinated and microchipped.  Memphis is 19lbs and he has an appointment to get neutered on November 27.  Memphis is born with a smaller eye (right one) and the vet think he is most probably blind from that eye.  Not requiring any medication on that eye.
November 15, 2019
– Memphis was a little shy and nervous at first. Sudden movements would make him flinch so he is learning that the world is not always so scary. He warms up quickly! Before you know it you have a shadow following you around.
He has the cutest little butt wiggle!
When he walks, Memphis tends to bolt ahead! Adventure awaits and he wants to be first!
He is still learning the proper places to pee.  Once he gets neutered, he will stop marking with good positive reinforcement. Memphis LOVES his raw food. The first snowfall, he loved to jump in it!  Memphis likes his cuddles. He is learning to be quiet while we work and just cuddles at the bed at their feet or sometimes just on the floor even though the bed is right there!  Toys don't tend to keep his attention for very long.
November 13, 2019 – Memphis is a sweet boy.  He is 1.5 year old,  he seems to have been abused.
Memphis is going to the vet this Friday for a complete check up, to get up to date in his vaccination and get microchipped. He also need to be neutered.  Memphis is born with a smaller eye, it doesn't affect him but he is most certainly blind from that eye.  He is very good with other dogs and has quite a nice muscular body.  Stay tuned as we get to know Memphis a bit more in the coming weeks.