Age: 11
Adoption Fees: $300
Adoption Status: Successful Adoption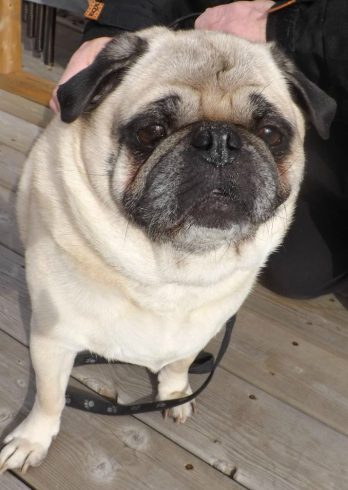 March 22, 2017 – Memphis is gone to his forever home.  He will share his life with a pug brother.
March 6, 2017 – Due to an emergency case coming into the vet clinic on Thursday, March 2, Memphis' dental procedure was rescheduled for Monday, March 6th.  He will be able to eat without pain when he recovers from his surgery.  Memphis likes to take his time while eating and prefers to graze throughout the day.  This will be difficult should there be other dogs in the home.  He will have to be encourage to eat scheduled meals.  This big boy is the most gentle and loving pug ever.  He just goes with the flow and allows his foster brother & sister run the show. All he wants is to be next or near you and if he gets the opportunity he will be lying across or sitting on your lap..  He is not interested in toys or playing fetch.  Most favorite pass time is lying on the couch watching TV or sleeping.  Memphis enjoys the cool fresh air and gets excited when you are taking him for a walk. He walks well on a leash and takes his time to look for that perfect spot to do his business.  This big boy will have to be kept inside in the A/C during the warm months so he does not become overheated.  Memphis travels well in the car. Restricted to the back seat with a harness attached to the seat belt is advisable. This gentle giant is looking for a calm forever home, not too overwhelming, where he can live out the rest of his senior years in bliss.
February 28, 2017 – This gentle, big boy, is extremely loving and enjoys being cuddled up next to you.  While you are giving him belly rubs he likes to talk to you, which sounds like growling, but what he is saying is more rubs, more rubs.  He is most content with you but can be left alone for a few hours.  Memphis will sleep until you return but be prepared for a lecture from him letting you know that he was not pleased you left him but glad you are back.
 Memphis loves going for walks or running around in the backyard.  Care must be given that he does not over do it as he still needs to build up strength in his back end.  Since Memphis likes to jump up and down off furniture, training him to use stairs would benefit him immensely and would possibly prevent any injuries. At his current weight of 27lbs, he tends to land hard on his paws.  Memphis does not inhale his food down like most pugs but likes to take his time. He might not take as long to eat after his dental work is done which has been scheduled for
March 2nd
.   Memphis is fully house trained and will let you know he needs to go out by softly barking.  He has a very deep bark which suits his size.  Memphis is a very social guy and enjoys the company of other dogs and, of course, people.  He has a silky, soft coat and sheds very little for a pug.  He craves attention and affection but also likes his quiet time so he can dream of finding his furever home that can meet his needs.  This big beautiful boy will take a piece of my heart with him when he leaves but I know that bigger and better things are in store for him.  Memphis will be available for adoption once his dental procedure is completed.
February 27, 2017 – Memphis is doing very well and is getting his teeth cleaned this Thursday.  Come and visit Memphis at Pet Valu @Westgate Mall in Ottawa on Saturday March 4 from 11 to 3pm.
February 21, 2017 – This loving boy, who thinks he's a lap dog, is a pleasure to foster.  He gets along with other dogs and enjoys the attention he receives from people. He loves to be held, lying across your lap when you are sitting, or snuggled next to you on the couch or in the big bed.  Any loving attention is welcomed. Memphis walks well on leash but does pull at times when he is on a mission.  He prefers to run free in the backyard and would love to have a dog brother or sister to play & cuddle with.  Memphis is fully house trained and will let you know when he has to go out by barking or sitting at the door.  When you ask him if he needs to go out he gets excited and starts barking & jumping.  He enjoys the outdoors and especially likes lying in the warm sun.  Memphis would not be happy in an apartment. When Memphis wants to nap, he gets on the back of the couch in order to get a good view out the window.  He does require daily exercise; water therapy would be great for this boy in order to strengthen his back end. At times, Memphis can be as playful as a puppy. Memphis does not inhale his food like most pugs.  He prefers to take his time to enjoy it.  He loves carrots and cucumbers.  On the day of his arrival with us, Memphis weighed 28lbs.  His ideal weight would be around 23lbs.  Since being in rescue, he has dropped 1lb and, we will continue to work on reducing his weight until his goal is reached. When left alone for a few hours, Memphis will sleep until your return.  A maximum of 5 hours alone is recommended as, like most pugs, they prefer to have someone at home with them. The family who will adopt Memphis will be very lucky to have this guy in their lives.  The love you will receive from him will be immeasurable.
February 20, 2017 – Memphis went to the vet last week for a complete check and to get vaccinated and microchipped.  Memphis has very bad teeth so a dental cleaning has been scheduled for February 27, 2017.  More info on Memphis to be posted shortly.
February 11, 2017 – Memphis came in yesterday.  He was surrendered by his owner who couldn't care for him anymore.  Memphis is neutered and he gets along well with other dogs.  He's also a big cuddler.  Memphis will be going to the vet this coming Monday for a complete check up and to get up to date in his vaccination.  Stay tuned for more info on Memphis as we get to know him.