Age: 10
Adoption Fees: $300
Adoption Status: Successful Adoption
August 4, 2018 – Mario will be humanely euthanized this Tuesday as his health condition is not getting better.  His latest blood work result is showing abnormally elevated liver enzymes.  Despite all the efforts and medical assistance we have made over the past 2 months, letting Mario cross the bridge is the kindest thing we can do for him.  Run free little man.
July 24, 2019 – Mario is being a perfect post op patient. Mario is eating his GI kangaroo diet with some wet food. He has a good appetite and is enjoying it. We are keeping close watch on his mouth over the next week until his sutures dissolve. Mario pre op has been doing pretty well with house training. Post op he has occasionally peed in his pee pad while sleeping. This is understandable because he is on some pain medication that makes him sleepy. Otherwise he's been doing his business outside like a good boy! Mario loves going for walks he is a little slow and wobbly but he keeps up pretty good with his fellow pugs. Mario is back to being his happy little self. He brings us toys and is such a happy little fella. Mario loves to snuggle and be near us. He has made friends with all of our neighbors as he basically demands that they pet him and pay him attention.  Mario is going back for blood work in a few weeks to see if his level of liver enzyme are back to normal.
July 17, 2018 – Mario did very well after his surgeries today (neutering and dental procedure).  He only has 4 teeth left and he is 19lbs.  Mario will be going to his foster home later today for a smooth recovery.
July 13, 2018 – Mario's ultrasound and urine analysis result came back normal.  He has been put on kangaroo formula and he is getting neutered and having his teeth cleaned on July 17.
July 5, 2018 -Mario had his ultrasound and biopsy this morning. We won't know the results till tomorrow. He came home with a really cute bandana from the vet looking so handsome. He's a little cooler  because they shaved his belly for the procedure. We have currently suspended all rehab until we know more about this little man. He doesn't seem to be improving. His poop is yellow and he is wobbly when he walks.  Despite this he is always happy to see us and loves to be around us. He is a very sweet pup.  Mario was really enjoying his meals on the new liver support diet. But the last two days have been a struggle. He sometimes won't eat. We offer it later and sometimes he eats and sometimes he doesn't. Yesterday he didn't eat breakfast but ate around 10am. Then would not eat dinner. It was offered several times in the evening and he wouldn't eat. He was not allowed to eat this morning due to the scan. So you would think he would have been starving. But he didn't eat much at first. He finally ate it an hour later. But this definitely has me worried. Mario continues to wear the pee pad
but had been having less accidents.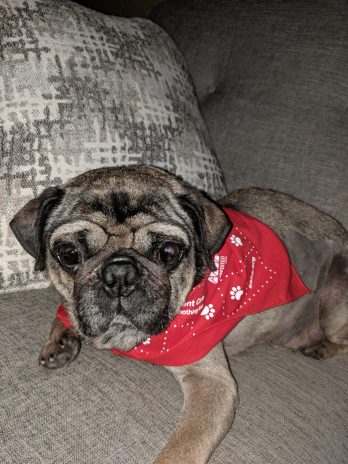 June 16, 2018 – Rehab: Mario went to rehab on Friday June 8th
and Monday June 11th and is booked for Friday June 15th. On Friday they measured how much pressure he is putting on each limb- which used to be dramatically different, it is now nearly equal which is fantastic. It means he isn't relying on one side or protecting the other. Showing great strength in his limbs. Friday he did 12 minutes on the treadmill on an incline for the first time ever, he did great. On Monday Mario did 15 minutes on the treadmill (his longest time yet) on an incline and at the fastest speed yet. We worked on him walking on a mat and standing up on a step, making him put weight on his back legs and stand straight up.  He has been walking stronger and continues to occasionally try to run. He is more interactive with toys and gets up easier unless he has been lying down for a longer period of time.  Mario is such a happy little man. He loves being talked to and played with. He is becoming quite the little snuggle bug. He stands on his back legs to ask you to pick him up and cuddle. Which is amazing because he has the strength to do it and he has the confidence to want to snuggle. Mario's cutest new quirk is if we have gone out, even for just a short while when we return and find him sleeping in his bed. When he wakes up he prances around and sings a little song, he makes quiet little happy noises, its so cute!
Mario likes to get inside his foster dad's stinky gym bag.  Mario is eating turkey and rice diet. He doesn't always finish the entire portion, but he has been eating more and more. He eats very slowly and needs a lot of patience with feeding. Mario has been peeing in his pad approximately once a day. Despite many walks and many pees outside he still pees in his pad sometimes. Mario likes to bark at things with wheels while we are on walks. Strollers, skateboards, roller skates, bikes etc. His bark is very soft, so nobody seems to mind. Mario otherwise doesn't appear to be scared of anything. While vacuuming this week I had to pick him up in his bed to move him to vacuum and then move him back.
June 5, 2018 – Mario has been doing great the last few days.  He is a very happy little man. He's pretty curious about everything and likes to follow you to see what you are up to. He's very gentle, good with other dogs & children. Mario loves when you talk to him. He has started making happy little pug noises more and more.  Mario is continuing with a low protein diet and his elevated bowl makes it easier for him to eat.  Mario continues wearing the belly band inside. He has only had one time where he peed in it this week and has done all his poops outside. He gets a small treat to encourage outdoor pees and poops and this is going pretty well. Because of his diet and liver condition, Mario drinks a fair amount of water so we offer more times to pee and poop outside also. Mario loves going for walks. He even tried to run a few times this week when he got excited. He is picking his feet up more and showing a lot more strength since he has started hydrotherapy sessions.  Mario is really enjoying his rehab sessions. He did much better on his second & third visits. He is working on stability and strength. Today he did 10 minutes on the treadmill and worked on climbing an elevated mat which helped engage a lot of his muscles.  Mario continues to sleep on his bed on the floor.
May 26, 2018 – Mr. Mario is transitioning very well.  We are having a great time with him.  Mario was incredibly sad when he arrived, his eyes were sad, he cried a little. He had a bath that washed away ten years of dirt, rings around the tub. He seriously bonded with his Foster Daddy after that bath and immediately started looking better. He, like most pugs wasn't super impressed by nail clipping and face and ear cleaning. But he sure loves being clean! He's very gentle with all dogs and kids. He has the softest bark, it's really cute. Definitely becoming a snuggle monster. Today he pulled all the toys out of the toy box and was having a great time playing!Mario had a wobbly gait when he arrived, causing him to trip and stumble quite a bit. His teeth looked poor and he looked extremely bloated.
Mario went to the vet on Wednesday. He had bloodwork done, x-rays & stool sample. Mario has some elevated liver function enzymes in his blood; likely due to poor diet and 0 exercise. He has started a new low protein diet to help correct this problem. He is starting a walking regimen of a minimum four short walks per day with plans to start hydrotherapy sessions to help him build strength and muscles on his hind legs. Mario will revisit the vet in 1 month to reassess his liver enzymes and to plan his dental and neutering surgeries.  Mario is currently wearing a belly band to help ensure he isn't marking and to train him not to pee by accident. We have had one pee and one poop accident. Both happened because it was close to walk time and he got too excited. Otherwise, it's only been three days and he's doing great. He is starting to poop more regularly and he's farting which is making him look less bloated already.  Currently, Mario is eating cooked turkey & rice and loves it. Mario is getting stronger walking already. He walks pretty well on leash considering his gait. He is fairly stable as long as he's on one terrain. It's either all grass or sidewalk, if he straddles both it's very hard for him. He loves going for walks and being outside.  Because Mario isn't super steady, he sleeps on the floor in a puppy bed. He loves it and settles right in.  He has a big crush on his pug foster sister and follows his humans everywhere in the house. We are carrying him up and downstairs as he just isn't strong enough or coordinated enough yet.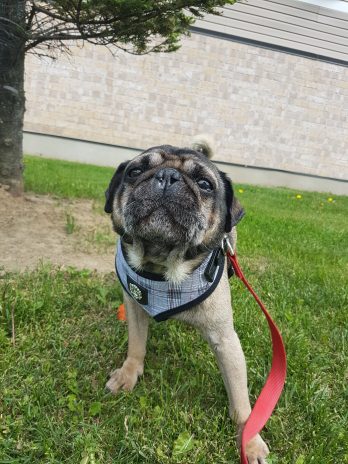 May 22, 2018 – Mario came in this afternoon  He was left tied to the door of a shelter with a little bag of toys.  This super sweet boy is very friendly and he wasn't to be loved.  Mario is going to the vet tomorrow.w for a complete check up. Mario will need his teeth cleaned and he will need to get neutered.  Stay tuned on more on this boy.