Age: 6
Adoption Fees: $300
Adoption Status: Successful Adoption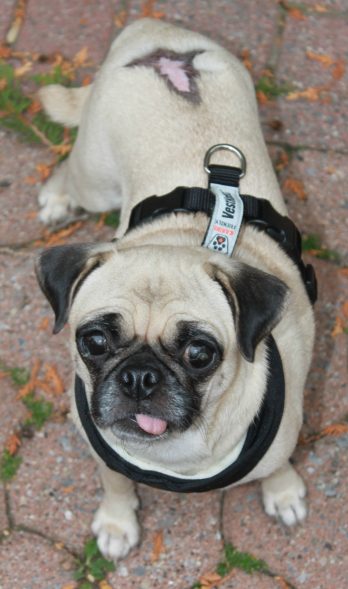 November 27, 2019 – Lili is gone to her forever home.  She will be showered with love by her retired mom & dad.
November 24, 2019 – Lili went to vet yesterday. The vet was very happy with her eyes. For now, she will require lubricant eye drops 4 times daily and cyclosporine eye ointment twice daily. With time, the new owner may be able to decrease cyclosporine to once daily, with continued improvement.
Lili is full of life and feeling great. She is a pleasure to have around and always makes us laugh.
November 21, 2019 – Lili is doing her business outside now, and will need continued patience and persistence to engrain this behaviour in to her routine. She requires eye lubricant three times daily.  She has "dry" eyes, which is quite common with pugs.  At the moment she gets lubricant drops & cyclosporine, to be assessed today at the vet to see if she needs to continue to get both lubricant and cyclosporine.
No small children for this girl please as she requires a more quiet, and calm environment.  Although she is nervous in new situations she does settle in quickly. Lili would like a home with another small, gentle natured dog.
If you are looking for a sweet, quiet girl for a companion, Lili is your girl.  Lili will soon be available for adoption.
November 15, 2019 – Lili is recovering well from her spaying surgery.  She will be on antibiotics until Tuesday November 19. Lili needs a home with no small children. (She gets very anxious and can "paw" at little ones and scratch them).
Another small gentle dog would be great.  She doesn't like to be left alone too much.
November 11, 2019 – Lili hasn't had an accident for a week in the house. She is well on her way.
Lili loves to run in little circles tossing her toys around and gently yipping. This lasts about 10 min then she's ready to settle down beside you and have another snooze.
Lili is a wonderful little girl at night, sleeping in her comfy crate which is lined with an old down coat.  She snuggles down and we don't hear a peep from her until morning. Because Lili is still nervous in new environments and seems frightened when there are loud noises or commotion, we feel a home with no young children would be best.
Lili would certainly enjoy the company of another gentle natured small dog.  She is quite relaxed when we go out if she can see the other resident pugs.
She would do best with someone who would not leave her alone for very long periods.  This will also make the routine of toilet training continue to be successful.  This tiny girl is the sweetest little pug.  She is so gentle and easy to have around.  All that she requires is some someone to love and the warmth of a nice home (and a good down blanket).
November 9, 2019 – Lili is doing awesome. She is starting to be more playful and is very funny. She is a low energy dog, and does not require a lot of exercise. Because she has a very thin coat of hair she cannot tolerate the the cold very well (she sheds very little). 2 short walks a day is all is needs. (10 min). She runs around the house a bit and scampers around but this is also fairly short lived and she will find her bed and fall into a deep sleep.
When she came to us she was very fearful. Cringing when you bend over to pat her and very reluctant to leave the security of her crate (which we leave the door open to most of the time). As time passes she has learned that she can trust us and is spending more time outside her crate. She was also very fearful of doing her business, Lili can hold it longer than any pug we have ever fostered. Lots of patience waiting for her to go, and getting her on a regular schedule seems to be working. This is work her adoptive Family will need to continue with and need patience to let her learn that this is how you expect her to behave.
She continues with the eye drops and we think her eyes look good most of the time. Less digging and rubbing face on blankets etc. This is something she will need for life. Hopefully she will get down to once or twice a day.
Overall, this little Mighty Mouse is a joy to have and with love and patience would be an amazing companion.
October 30, 2019 – Lili is settling into her new foster home. We are working on the toilet training, she can hold it for a very long time and if we put her out frequently she does eventually go.  No accidents inside yet.
She is still getting frequent eye drops and her eyes seem to be responding to the treatment.  They still get dry and have thick mucous at times but she also has times where they look moist and "normal".
Lili loves to sit beside you and be with you.  She can be playful, but so far seems to be a fairly low energy pug.  Sleeping a lot and lying about in the sun.
This picture was taken on Big Rideau Lake, she had gone for long walk and was enjoying a rest before heading back.  Stay tuned for more on Lili as we spend more time with her.
October 22, 2019 – Lili went to the vet yesterday for a complete checkup and to be brought up to date in her vaccination.  She has no tears in her eyes and requires tear gel for the rest of her life.  The vet believe she has 10% sight on the left eye and 50% on the right but that doesn't stop this sweet girl.  Lili will get spayed and have her teeth cleaned in the coming weeks. She is a very affectionate little girl. Loves to cuddle & give kisses. She's very well behaved. Eats well. Is well mannered. Doesn't bother with the cat. The cat was drinking water and she was eating beside her in the dual bowl. She has gone for a couple of walks. But prefers to follow me around the yard to get her exercise. Couldn't care that there are barking dogs on both sides of me. She's met the children next door. Was super excited to get hugs and attention from them. She just loves people and attention.  She sleep through the night in a dog bed next to mine. She's getting better at hitting pee pads. I think her biggest issue is her eye sight.  I've noticed that if she stops to smell something while we're in the yard she losses track of me and gets confused. If I call her or clap she can come to me.  Lili made wonderful progress last night and got up from her bed in the bedroom and went into the kitchen to use the pee pad. She partially missed but a total win that she didn't go in her bed or the bedroom. Today was her vet visit. It went well. She squirmed quite a bit but took the needles like a champ. Afterwards we walked in the yard and for the first time she peed outside. We celebrate with lots of praise and a treat.
October 16, 2019 – Lili just came in this afternoon.  She is a 6 year old puppy mill survivor.  Lili is about 11lbs and she has a burn mark on her back.  She also has dry eyes and ear infection.  She has 3 different medication to put in her eyes + tear gel and medication to put in her ears.  Lili is the sweetest little girl and she is very friendly and cuddly.