Age: 4
Adoption Fees: $750
Adoption Status: Not Ready for Adoption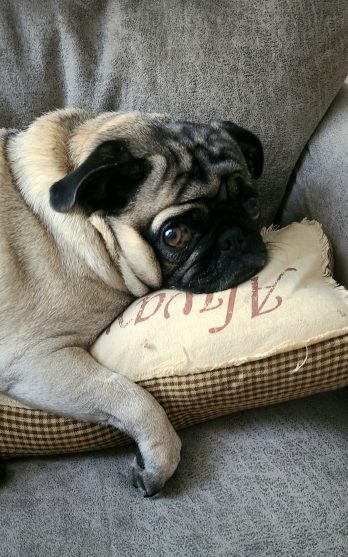 August 31, 2023 – Jewels has really found her rhythm at her foster home. She is happy with her routine, new foods and surroundings. She is bonding well, has a happy spirit and likes to travel to the weekend getaway. We are happy to report after a follow up visit with the vet that Jewels is down 1.5 pounds or .7 kilograms which is a really healthy rate of decline.
August 21, 2023 – Jewels loves to go to bed with her foster family. She loves a good night sleep. She has finished her antibiotics and pain medication. Humid and hot days warrant shorter or evening walks. She tried a game of chase yesterday as she learns more social activities. She is a little jumpy to young kids, noises and stepping on objects, she does a little jump in the air with all four feet. Jewels or aka Jelly Bean is such a wonderful pup.
August 14, 2023 – Jewels is feeling so well now she prances around the yard sniffing before finding her perfect pee spot. There is no more urgency to go. She can be very excitable and quite frisky now while playing with her foster siblings. She is comfortable in a crate or also left roaming around. Walks and welcoming someone home are her most favorite things. She is a very well behaved gal.
August 8, 2023 – Jewels's surgery to remove the stones in her bladder went very well.  She is back to her foster family for a smooth recovery.
August 3, 2023 – Jewels was at the vet today.  She was attempting to urinate a lot so we had xrays done and we discovered that her bladder was full of stones.  Her surgery is scheduled for Tuesday August 8.
August 1, 2023 – Jewels came to us this afternoon.  Very sadly, her owner only has very little time to live and coudn't take care of her anytime.  Jewels was his entire life and we promised him we would shower her with love.  Jewels is 4 years old.
Come back for more on Jewels as we get to know her.