Age: 2
Adoption Fees: $750
Adoption Status: Successful Adoption
June 4, 2022 – Gunner is gone to his forever family.  He will share his life with a 2 year old male pug and 2 young respectful kids.  Happy life sweet Gunner !!
May 18, 2022 – The time has come for Gunner to find his forever home.  This little darling will be a little shy with you at first, but give him a couple of days to get his bearings and wait for his sweet and silly personality to come out.  Gunner will adapt quickly, especially with one or more young fur siblings, he is a very smart boy and would LOVE to get some play time and wrestling with another young energetic dog.
Gunner knows how to "sit", "stay" & "gentle".
Like all pugs, Gunner does not like to let his people out of his sight. He will do well crated if left alone, or overnight although his foster mom lets him sleep in the big bed on the weekends and Gunner LOOOOVES this most of all.
He is a happy boy from morning to night and enjoys his three walks a day, sometimes too much and has shown interest in chasing rabbits, squirrels and even cars!  Gunner knows when we walk with the resident pug, we have to be mindful, and understands "slow down".  Gunner needs a fenced back yard, he has a lot of pent up zoomies to get out!  This guy should never be let off leash until he is older and more responsible.  We don't call him Gunner the runner for nothing!  Gunner is eating raw food and we has been since he is a puppy so we would like to find a family commited to feeding raw food as he is doing very well on it.  Despite being so energetic, Gunner is also a big cuddler, but needs to work on his manners sometimes and wait to be invited on someone's lap.  Overall, Gunner is a goofy little love bug and we will be sad to see him go.

May 3, 2022 – Gunner's veterinary exam went well.  Gunner had one dose of Strongid last Saturday, his next dose is due today.  He has started Advantix yesterday.  He is just the sweetest boy, we love having him.  Gunner has become very comfortable with us and continues to be a joy!  His favorite thing to do is chew/fetch his toys.  Gunner will be going shopping for some sturdier toys; we had to say goodbye to his hedgehog after he chewed a hole in the fabric.  Gunner has come a long way in the short period of time we have known him.  Initially, he refused to go down the stairs at the vet clinic but now, no problem.  Gunner is still timid with strangers, but has started to come out of his shell more and more.  His tail is usually almost always wagging.  Gunner stays in his crate overnight without any issues.  He is always happy to see his foster mom in the morning and excited to get outside for his walk.  Gunner is still working on his manners.  He is extremely food motivated and learns quickly. The only thing Gunner does not seem to like is…car rides.  He will runs to the door when he knows his foster mom is leaving for work and jumps in the back seat willingly but cries a bit after the car starts moving.  Gunner continues to try to make friends with the resident pug and seems genuinely happy when we have encountered other dogs on our walks.  This happy little boy would love to have some younger fur brother or sister to cuddle and play with.  Despite Gunner's obvious charms, he has not been able to persuade the resident pug to do either, however, he did share a brief snuggle with the resident shih tzu.  Gunner is just the sweetest little pug overall and would be a great addition to any active family.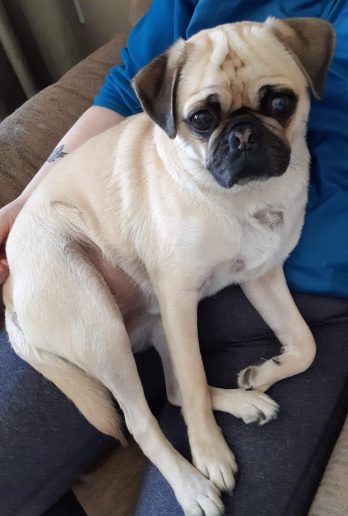 April 20, 2022 – We are enjoying getting to know Little Gunner.  He is a feisty Boy and super smart!  After only one day of accidents he started to let us know when he needed to go out by circling and barking and heading to the door. Gunner has a lot of energy.  Even after three walks a day he could still play for hours.  He LOVES to play fetch with his stuffies and although the resident Pug seems interested in joining, this has not happened yet despite Gunner's encouragement.  Gunner seems very comfortable with the humans in his foster home but a little leary of strangers.  He has been going to work with his foster mom at the vet clinic all week so far and doing great.  Gunner is not a fan of the car but has managed the short daily car ride very well.  We are working on Gunner's manners and behavior in the house.  This is pretty easy, he is already used to the schedule here and oh yeah did I mention he is super smart? After a disagreement regarding sleep time vs play time, Gunner went back to sleeping in his crate with no issue. If he doesn't like something (car, crate, humans shutting the bathroom door) he tends to be a bit vocal at first, but stops quickly. Gunner is easy to love and easy to please.  He would do well with younger dogs and a big fenced backyard, we have started calling him Gunner the Runner those long legs make him the fastest pug.  Gunner will be seen by the vet soon, and continues to be a joy to look after.
April 16, 2022 – Gunner came in yesterday.  He is born on February 29, 2022 so he is just over 2 years old.  Gunner is as easy going as he is adorable!  He has gone from being the only dog to sharing space with two others with little incident.  He ate his dinner and breakfast with true pug enthusiasm, walked like a pro on his leash and spent the night in the big bed with his foster mom and the resident pug.  Gunner is very curious about the other dogs, and has tried to initiate play with both of them.  His energy level would be well suited with younger dogs.  Gunner has had a couple of accidents in the house while adjusting.  Gunner goes into his crate willingly, without protest.  For such a huge change in his life, Gunner has taken everything in stride.  This little charmer will steal your heart!  Gunner will go to the vet in the coming week for a complete check up, blood work and to get microchipped.  He is neutered and up to date in his vaccination until mid July 2022. Stay tuned for more on this sweet boy as we get to know him better.