Age: 8
Adoption Fees: $500
Adoption Status: Not Ready for Adoption
June 29, 2023 – Daisy  is still taking 2 Apoquel a day to control her allergies. If her dose is late, she scratches her body and licks her paws like mad. She is still healing from her infections. We are giving her antibiotics and baths and cleaning her ears once per day, and face two times per day.
Her face folds are looking better, but her ears are still pretty gross.
May 15, 2023 – Daisy's post-surgery follow-up appointment went very well. Everything is healing nicely, and we have removed her cone – which makes her very happy! She has one final suture to dissolve and we have to keep up a little extra TLC for her face and folds for a little while yet. She is moving more smoothly around the house now that the cone is off and is enjoying cuddling more comfortably with us and in her bed. Daisy is much more relaxed. Her body language is looser, she breathes more deeply and her sprawled posture while sleeping says that she is resting without pain. She is less irritable with our dog and can relax and walk on a leash with him. She also said a relaxed hello to other friendly dogs we know while on her walk today, which is a big step! We must still separate her from our dog with a gate when there is food, or high-value treats present as she will guard them. Daisy is one of the most affectionate dogs I have ever known, and she will be a joy living as the only dog with a forever family who will be sensitive to her special needs as a blind dog who can be irritable with other dogs sometimes but is beyond loving with humans. Here she is basking in the sun, which is one of her favorite activities.
April 20, 2023 – Daisy continues to receive the drops and medications needed to care for her eyes and control her allergies. Her skin and fur are looking much improved and her coat has started to shine.  We are looking forward to seeing her many bald patches shrink.
To the casual observer, Daisy's eyes might appear improved, but appearances are misleading. To maintain a basic level improvement, Daisy needs around the clock eye drops. As soon as she goes a couple of hours without drops, her eyes rapidly regress and become itchy and painful. Due to this, and because the veterinary ophthalmologist has determined that Daisy is permanently blind, the rescue has decided to provide Daisy with a double  enucleation, or eye removal. This procedure will ensure that Daisy has no more pain from her eyes, and relieve her of the stress of receiving multiple eye drops per day for the rest of her life.  The surgery will take place on April 26.
Otherwise, Daisy continues to be very affectionate with her humans, but remains wary of other dogs.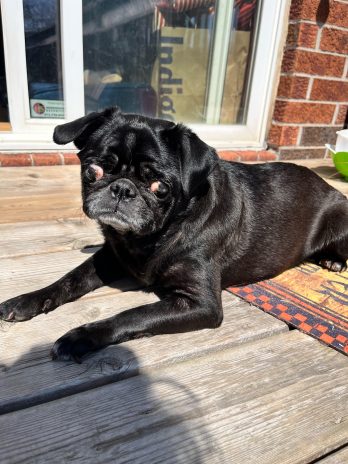 April 11, 2023 – Daisy is becoming more comfortable around the resident pug, but I think it is at least in part because he has learned to be cautious around her and to not try to engage her in play. She's happy to hang out with him if he's calm.
As a companion to humans, Daisy is a treasure. She is loving and affectionate. We have developed good communication between us with lots of reassurance and cues on our end and she trusts us completely. I think, in most situations, if Daisy responds poorly to something it's because the human involved hasn't prepared her adequately for what's coming. She loves adults and children who are taught to engage with her with sensitivity to her disabilities. She does like to bark, however, when anyone approaches the door and can sound like she is growling (she's not) so she can be a little intimidating to those who do not know her, especially children. She walks well on a leash and is doing a great job of mapping out our house. She sleeps on her bed in the kitchen at night because it's unsafe to have her on the bed – although we do have snuggle time on the bed most nights. We tried letting her sleep in her bed in our room but she would wander at night and we were worried for her safety.
So, at this point, I would recommend that Daisy be adopted by someone who is home during the day, can apply eye drops throughout the day, and has no other pets, although I think another senior dog/s would be fine. The home should have either no children, or older children who can be taught how to love her appropriately.  They need to be prepared to make modifications, such as baby gates on stairs, to keep her safe.
April 4, 2023 – We are closing out our third week fostering Daisy and we contine to develop safety and trust. She's sweet and loving, although tentative and uncertain at times.
The biggest challenge Daisy faces is a mixture of blindness and anxiety. We are working on developing cues that we are going to touch her or lift her. Cues that we are going to put on a shirt, or take one off. Cues to let her know when a stair is coming up, or someone is walking toward her. Letting her smell everything before it touches her is key. We are helping her to slowly map our home and yard, and how to tell us if she needs to go out between outings. Her lack of awareness leads to accidents, but we are confident we can change that with training and familiarity.
She is becoming more comfortable with physical affection with familiar people. She follows the sound of my voice and wants to be with me, and will let me stroke her and give her scratches, although she's is sensitive to parts of her back being touched. She dances away from other family members after a quick pat. She barks and grumbles at strangers and doesn't like other dogs. She can't read their social cues and it stresses her out. She hates cats so much she can sense one and explodes into a ball of baking and spite if one is near.
She has nipped at us but has never broken the skin. One occasion was when her paw got caught in a knitted sweater and another was when she was getting into a harness. We believe these incidents were tied to confusion and fear. We have changed to clothes and a harness that are easier for her to put on. She went through a period of fighting her drops and medicines but she seems to be calmer now, with repetition, rewards and lots of cuing. She likes to play with toys, but not with our other dog, and sometimes growls at him if he startles her (fair!) They do like to bark together, so there is that.
Medically, Her eyes are having more periods of reduced redness (not all the time) and some of the black pigment seems to have cleared. She continues to scratch and lick as her steroid is reduced, but is starting a new allergy medication, so this should help. She wears soft, breathable shirts and pjs to protect her very damaged skin from scratching and hopefully promote healing. We give frequent breaks from the shirts, never wear them wet and change and wash them daily.  Everything with our pugs is done mindfully! Her ears are softer and starting to be able to "jiggle" in a healthy way as the allergies, bacteria, and yeast clear. All in all, she is moving in a good direction. She has a good appetite.
March 23, 2023 – Daisy continues to receive treatments for her various health issues. She's starting to get annoyed with us applying eye and ear drops multiple times a day, but we're trying to make it as pleasant an experience as possible with lots of positive reinforcement. The regular vet has confirmed that Daisy will need very regular eye drops for the rest of her life, so it's a priority for her drops to not become something she dreads and fights, so we're trying our best. She has finished her current course of antibiotics and is still taking steroids for her allergies. She is receiving regular baths with medicated shampoo.
Daisy met with the ophtalmologist this morning who confirmed that she has Pigmentary Keratitis in her eyes. Pigmentary keratitis refers to brownish-black discoloration of the eye's surface caused by the deposition of pigmented melanin granules. Pigmentary keratitis is caused by chronic irritation or inflammation of the eye. When this chronic inflammation occurs, melanin granules can be deposited within the deep layers of the cornea.
The ophtalmologist confirmed that Daisy likely only see shadows. The doctor is unsure if she will regain any sight, even with diligent application of drops.
Daisy is sweet and affectionate. She likes to be scratched.  She doesn't have much interest in the resident pug. She walks very well on a leash. She seems fine with children and is not too barky. She is very sensitive to having the area around her spine touched.  This is where the doctor believes she may have had broken bones that were untreated.
March 20, 2023 – Daisy seems to already feel much better with the medication she started, she is going to the ophtalmologist this week to have her eyes checked.  She continues to be a doll when it comes to giving her medication.
March 15 2023 (later): Daisy went to the vet this afternoon. is being treated for severe eye, ear, and skin infections, and allergies. She has started a different eye and ear drops, steroids and broad spectrum antibiotics. Her eyesight is very poor and we don't presently know if that will improve with treatment, but she seems to be able to hear. She is eating well and tolerating her treatments with a lovely temperament. The vet has advised that she remain separate from other dogs during the initial stages of her treatment until we know the extent of her infections. Daisy will require a spay surgery, once she is healthier, and undergo further health investigations, as needed.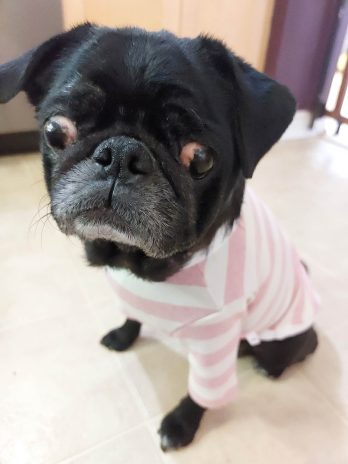 March 15, 2023 – Daisy came in last night.  She will be 8 years old next month, she is born April 13, 2015.  She has dry eyes and sky problems.  She is going to the vet this afternoon for a complete check up.  Stay tuned for more on Daisy.