Age: 6
Adoption Fees: $300
Adoption Status: Successful Adoption
September 19, 2017 – Daisie had her teeth cleaned and she was spayed last week.  She is recovering very well and is now available for adoption.
September 7, 2017 – Daisie is doing very well, she doesn't mind the rain and loved her bath this week. She is getting more and more cuddly each day. She and the resident pug, Ebony both follow me around and are quick to jump up on my lap when I sit down. They are so cute together and sleep in a heap together at night. They are so bonded on each other.
August 30, 2017 – Daisie is getting spayed on September 11 and she will be available for adoption shortly after.  Come and meet her this Saturday, Sept 2 at Pet Valu on Bank Street @Strathcona in the Glebe from 10AM to 330PM.
August 27, 2017 – We are enjoying having Daisy and watching her come into her own more and more each day.  She is feeling so much better this past week as she is not showing any signs of her UTI.  She gets along very well with the resident dogs and is very playful and energetic. She is a very different dog than when we first got her.  She acts like a little puppy at times, she loves to play. She would need someone who could give her a lot of exercise and attention.  She is getting more and more cuddly each day and seeks out to be petted.  She is getting more trusting of everyone.  She is learning that she is safe in this environment.  At night she sleeps in a crate with her blanket.  She likes her new food and eats well with the other dogs.  She really likes her walks and walks very well on a leash.  Daisy is getting spayed soon.
August 21, 2017 – Daisie went to the vet and she has a UTI that is being treated with antibiotics for 2 weeks.  Daisie is a sweet girl and she is 17lbs.  She will have another urine analysis once her antibiotics are finished and we will go from there.  Daisie is doing very well with the 2 resident dogs in her foster home.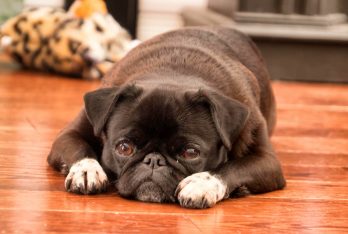 August 13, 2017 – Daisie came in this afternoon.  She was surrendered by her owner.  Daisy is 6 and she has had puppies before.  Daisie is a sweet girl and she gets along week with other dogs.  Daisie will be going to the vet this week for a complete check up, to be brought up to date in her vaccination and to have her spaying surgery scheduled.  Stay tuned for more on this beautiful girl as we get to know her better.