Age: 8
Adoption Fees: $300
Adoption Status: Successful Adoption
June 19, 2019 – Clara has been adopted by her foster mom.  She is living a happy life with pug sister, past adoptee, Ella.
May 23, 2019 – Clara has recovered completely from her surgery. She gets the sutures out May 31. She is finding her way round the house very well now. Going down the stairs is still hard for her, but up is going well. She is still hesitant when out for walks and needs encouragement to keep going, but she does get excited when she knows we are going for a walk so I think this is just a matter of time. She is eating W/D and loves it. She takes her insulin injections with no trouble. She is a very affectionate dog and asks to be lifted on my knee and then promptly goes to sleep. She is not having any accidents in the house now that her confidence is better and is finding the grass in the garden quite often, if not she does go on the pathway, but that's still better than the house! She does poop and pee on her walks as well.  Clara is getting her teeth cleaned in a few weeks.
May 16, 2019 – Clara was spayed yesterday, surgery went very well.  Her blood glucose was monitored closely during the surgery.  Clara went back to her foster family last night for a smooth recovery.
May 13, 2019 – Clara had a good day yesterday at the farmers Market.  She stayed closed to her foster sister, Ella, who spent the day with her.  Clara is going back to the vet tomorrow for another glucose curve.  Hopefully, her glucose level will be fine and we will be able to schedule her spaying surgery. Clara is a very cuddly girl who loves to stay close to her people as she is almost blind due to diabetes.
May 7, 2019 – Clara is spending the day at the vet until the evening for a glucose curve to see how the four o'clock food and insulin is working out. She is doing very well health wise. She is off the Apoquel and not scratching. Clara is a very affectionate and gentle dog. Loves people of all ages and good with other dogs. She sleeps through the night on my bed. She's eating well and doesn't mind the injections at all. She is still adjusting to the loss of almost all her eyesight.
Right now we are sitting on the bench outside my door and she is content with her feet on me!
May 2, 2019 – Clara was at the vet on Monday to get spayed but her blood glucose was way too high to proceed with the surgery (38).  The vet kept her for the day to do a glucose curve (take blood every hour to see the glucose level).  She left the clinic at 530PM and her glucose was much better, around 13.  Her insulin intake was adjusted to 6 units twice a day.  Clara is going back to the clinic this coming Tuesday for another glucose curve.  If all is good, she will be spayed.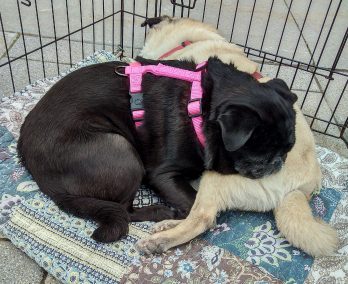 April 26, 2019 – Clara visited the vet this evening. She weighs 22.6lbs. She has a small umbilical hernia which they will fix if the spay goes ahead. This will depend on the blood work being ok. She also has an infection in both ears and I have meds now for that for 7 to 10 days. Her right eye has pigment covering the eye completely and therefore no sight at all. Her left eye has a cataract leaving a very little bit of peripheral vision but nothing at all in front. They want to continue with the tear gel to lubricate her eyes.  This sweet girl has been no trouble at all and is getting better at finding her way round the house.  Clara met the cats. No problem on her side but the cats were not so happy!  She also came to my work office today and all the staff loved her. She moved around quite a bit there too so her confidence is improving.
April 18, 2019 – Clara came in today, she was surrendered by her owner.  Clara is 8 and she is diabetic.
She is not spayed.  Clara is going to the vet on Friday.  This sweet girl is very loving and she gets along with dogs and cats.  Stay tuned for more on Clara as we get to know her.