Age: 5
Adoption Fees: $400
Adoption Status: Successful Adoption
March 4, 2020 – Our lovable Billy is doing great after his dental procedure on Monday. He needed to have many extractions so he will be feeling much better with this behind him.
Billy is quite the cuddler and loves to snuggle next to his human. Billy doesn't pay a whole lot of attention to the other animals, unless it's to steal away a toy. He much prefers to receive lots of attention from people; he is the perfect companion .
He loves his belly rubs, and a little attention to keep his chin area dry as he can sometimes be a bit of a drooler.  Billy is a calm good boy, but gets very excited for his dinner and walk time.  He can make the strangest chirping noises when he's excited !
He goes potty early in the morning and usually around dinner time. Billy doesn't mark like most male dogs. Billy is now out of his cone from his neutering surgery and, once he's all healed from his dental procedure, he will be back to his playful self. Billy does have hearing loss but that doesn't stop him; he will always come when I bend down and clap my hands together. At dinner time when he's being animated, he will quiet down when I show him the palm of my hand.
Billy is a sweet boy who loves and deserves lots of attention which he gives back one hundredfold! He just loves his people and will always be by your side.
March 3, 2020 – Billy had his teeth cleaned yesterday and only has 5 left in his mouth.  He is back to his foster home for a smooth recovery.  He had a light dinner last night and is resting with the resident pugs.  Billy's urine analysis is clear, no more crystals, all good.  The fact that he is now neutered most certainly helps.
February 24, 2020 – Two weeks post surgery for Billy. His neutering has healed perfectly. But much to his chagrin, I still keep his cone on until his face is completely healed. Billy is doing great with his house training. He loves to do his spins around and around to find the perfect spot.  He continues to be a good boy on a walk and is such a good boy all around. Billy just wants to be loved and will follow you and sit quietly until he can get his attention.
He will have his playful moments with his toys and will do a little playing in the yard with the resident pugs but generally, he's pretty laid back until…. dinner time and than he's a chirping barking excited pug !!! He likes to hog the spot closest to his human at bedtime, or snuggled on the couch.  Billy's dental procedure is scheduled for March 2.
February 18, 2020 – Billy continues to recover nicely from his neutering a week ago. His incision looks perfectly healed.  He is doing his business outside, no accidents in the house. His is back to being more energetic and playing with his toys, stealing toys from the resident pugs and reluctant to share. With the warmer weather, he has really enjoyed getting out for a walk. Billy is a calm pug but can be quite animated.
He will be very happy when that cone comes off.
He will be going for his Dental March 2nd, when he is completely healed. Billy loves attention and can't get enough of cuddling and belly rubs. He is such a lovable boy.
February 17, 2020 – Billy is recovering nicely from his neutering surgery yesterday. He had a peaceful Long sleep last night full of snores and cuddles . He ate well today , and did his business outside finally later this afternoon. His incision looks good and also his face where he has a couple stitches from his skin tag removal. He Is being a good boy and staying relaxed and just chilling on the couch as everything starts to heal.  Billy is getting his teeth cleaned on March 2.
February 12, 2020 – Billy was neutered yesterday and he went back to his foster home at night.  He had 2 skin tags removed at the same time.  He is wearing a cone and he is not impressed by that.  Billy is going back to the vet in about 3 weeks to get his teeth cleaned.  He is the sweetest and most loyal boy always following his people.
February 4, 2020 – Billy is a big lovable teddy bear . He has settled in very well and gets along with the resident pugs. If he gets a toy, he doesn't like to share but gives his warning with a wagging tail. He has occasionally chased the resident cat, but in cahoots with one of the resident Pugs .
Billy does have loss of hearing, confirmed by his visit to the vet this week and, was also treated for an ear infection.  He is now housetrained, no accidents in the house this week. He does his business outside when we get up in the morning, and again around late afternoon. He is a little slow to do his business, and I always go outside with him, he eventually gets around to it. Patience and positive reinforcement has really worked well. Billy is a quiet, well behaved pug, but can be quite vocal and excited when I come home. He also gets quite excited if he sees the leash and harness and knows a walk is in the plans. Billy walks great on the leash, doesn't pull, so walking Billy is very enjoyable for both of us.
He is getting along great with the resident pugs, but does prefer  the company of a human being.
Loves to be as close to me as possible, on the couch, cuddled in bed & bathroom.
If I'm in the kitchen, or doing anything, he sits quietly watching until I'm finished and can give him a pet .
He just wants to be loved and given attention, but sometimes, can be a bit pushy and will on occasion try to push one of the resident pug away from me if they're too close. This hasn't been a huge problem , we are working on it, and he does it without aggression
January 28, 2020 – Billy has hearing loss and doesn't like when we touch his ears although they look pretty good.  If we bend down and clap our hands together, he will come to you.
Billy can get vocal sometimes and try to scratch at us to get petted. We've been showing him a flat palm to get him to understand off .
The resident pugs are a little timid, totally backs off where Billy is … Billy has been a little too pushy for some attention.  He is a good boy on the leash and does not pull. He is not much interested in his surroundings just walking. In the yard, he is also not much interested, mostly stands and watches me. Doesn't interact with the resident pugs or run around.  This sweet boy is pretty well behaved , wants a lot of attention.  W shall see how he makes out as he gets more settled, maybe in his forever home, he could be the main squeeze!  Billy is getting neutered on February 11.
January 21, 2020 – Billy has come out of his shell and is a very well tempered pug who enjoys visits when you have friends over. He's not a jumper , greets them and likes the attention. Billy loves to cuddle on the couch and while you're watching a movie. He also likes to chase you and fetch his moose during play time.
Billy can  get quite vocal. He's good eater and likes to talk to you as you get his food ready which can get a bit loud. He's not bad at settling down but is pretty excited even when you come home from work. He's a very cute little guy who means well. He's just starting to get the command "sit" and we'll continue to work on it.  We are also working on Billy's housetraining.  He was used to go on pee pads and we are working on making him understand the concept of doing his business outside.  Billy is getting neutered and will have his teeth cleaned on February 11.
January 16, 2020 – Billy has settled in nicely. He's an energetic little guy and loves to play with his toys. He especially loves to play fetch with his moose toy or have you run holding it while he chases you.  Billy did very well greeting the children next door and certainly soaked in the attention. Billy is not shy when it comes to children or strangers. When out walking he doesn't chase cars or people. He's very well behaved. He is quite excitable when you bring out the leash and starts to chirp to try to let you know he's happy. He does the same sometimes when you cuddle on the couch to watch a movie but settled quite quickly. He's a good eater and rarely misses his pee pad. I've had some success with him doing his business outdoors but you have to watch him start to circle and then put him out, he will usually go. Billy's finished his antibiotics and there is no sign of blood or discomfort.  He is getting his teeth cleaned on January 21.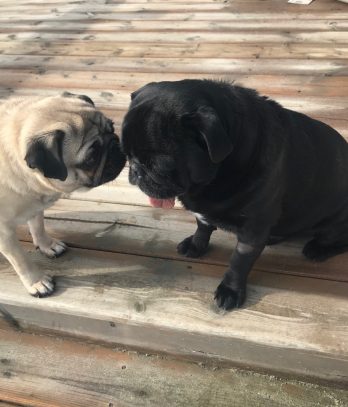 January 6, 2020 –  Billy has a Urinary Tract Infection. He has been put on antibiotics for 10 days. The vet mentioned that he has an enlarged prostate and that might be the cause of the crystals in his urine.  Once he gets neutered, that might solve this problem. He's pee pad trained and will go outside if you notice him spinning which he's done on several occasions. I don't think it'll take too much to train him with a bit of effort. Billy is very good at taking his antibiotics in the Urinary SO wet food. Billy is a very playful 6 year old pug and instantly took to the green rope toy and Mr. Moose.  He took a bit to settle down for his first night but eventually went into the open kennel and slept there all night. First thing in the morning, he was very excitable and chirps to show he's happy to see you.  He also loves to cuddle in the couch. Billy is very easy to love.
January 4, 2020 – Billy was surrendered to UMWPR this afternoon.  He is a 6 year old boy and he is not neutered.  Billy is going to the groomer this afternoon for a nice warm bath and brush.  Billy is going to the vet this afternoon as he has blood in his urine.  Stay tuned for more on this beautiful boy.