Age: 7
Adoption Fees: $400
Adoption Status: Adoption Pending / NO LONGER ACCEPTING APPLICATIONS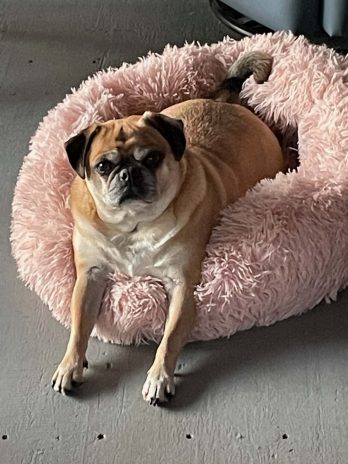 May 10, 2023 – Bernie is settling in well and getting along very well with us and his foster Frenchie sister. Few pics below.  He has a good routine now.
Typically, he goes to bed around 9:30 pm and will sleep through the night.
Usually, he will sleep in our bedroom on his cushion but occasionally if he's really snoozing in the living room, he will stay there all night and just come into our room in the morning if he hears one of us get up.  We have stopped using the belly band as he doesn't need it.
Bernie likes to get up a little before 7 am and really enjoys his first walk of the day. He has a lot of energy and enjoys a minimum of two walks a day. We continue to work on his manners as he will bark and lunge at dogs and sometimes people. He really enjoys being outdoors especially at the cottage where he has the run of a large outdoor deck and can chase the chipmunks.  Bernie is on a twice daily feeding schedule now and has adjusted well. BCR meatloaf mixed with some kibble. He sometimes will drop a little kibble on the floor next to his dish if he takes too large of a mouthful and the foster Frenchie will sneak in and get his droppings which he doesn't mind at all. He has dropped another 0.5 lb.
He likes cucumbers as a little treat.  Bernie enjoys playing with toys and if you're sitting on the sofa he will bring a toy to you if he wants to play fetch.
He does not jump on furniture and he does not beg at the table. He's well mannered around the kitchen and table.  He loves his foster Mom and Dad and all the friends and family he's met during his time with us. He was super at the Running of the Pugs event on April 16.  Bernie can be a little shy/nervous when meeting new people if he's on a leash and may try to nip if he's scared. Best to go slow and make sure he is comfortable and secure.  Bernie not the greatest traveller but the dog booster seat has really helped him to settle to the point where he actually slept a little on our return from the cottage this past weekend.  I have left Bernie at home alone on a few occasions and he was super! No accidents or barking. He goes to sleep on his bed and wakes up when I come in though the door.  All in all, he's a really sweet boy…healthy, energetic, playful and a happy dog.  Ideally, a home with a fenced backyard would be great for him and someone who has the time to walk and play with him daily as he does have a lot of energy …he's definitely not a couch potato!
Bernie would be happy with another dog or by himself.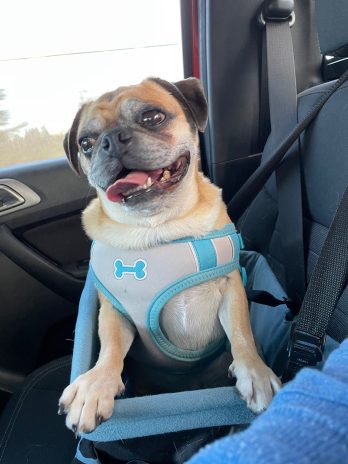 April 11, 2023 – Bernie came in on Thursday April 2.  He is 7 years old and is a rather large pug who will benefit from losing a few extra lbs.  Bernie is very friendly and good with other dogs.  He loves to play with toys and is well behaved in the house.  Come and meet Bernie at our April 16 Spring Running of The Pugs at Ron Kolbus Lakeside Centre from noon to 3pm.  Bernie is going to the vet tomorrow for a complete check and to be brought up to date in his vaccination and microchipped.  Bernie is already neutered.